EGS-SJ-003
EGS-SJ-003 Audio Recorder Jammer is a device that prevents the non-authorized recording of your conversations with audio cassette recorders or audio digital recorders.
EGS-SJ-003 suppresses the operation of the recorders by radiating noise interference.
The parameters of the noise interference are specially applied for suppression of many types of recorders.
In addition, you can use this jammer device to protect yourself from being listened by many types of the eavesdropping systems such as audio mini transmitters.
It improves the functioning performance of the jammer.

You can use this jammer as a desktop device in your office, as a standalone device in your briefcase.
It is specially designed (desk clock-type) and disguises its actual functioning.
You can put any office item on top of it (such as phone set, penholder, etc.).
Thus, you can hide functioning of the jammer from anyone who is trying to get the confidential information.

EGS-SJ-003 is a portable device. It comes with carrying bag.
It works with a NiMh recharging battery (operating time: 2,5 hrs).

It can be completed with a bullet-proof briefcase.

You can use the remote control unit to activate/deactivate the jamming.

EGS-SJ-003 is NOT a GSM jammer device.

EGS-SJ-003 does not make any acoustic noises when it is working.

Standard Norms UE Regolations relative to electric security and radioelectric emission:
No effect for woman in pregnancy and pacemakers.
No effect for magnetic supports (tapes, credit cards, diskettes and so on).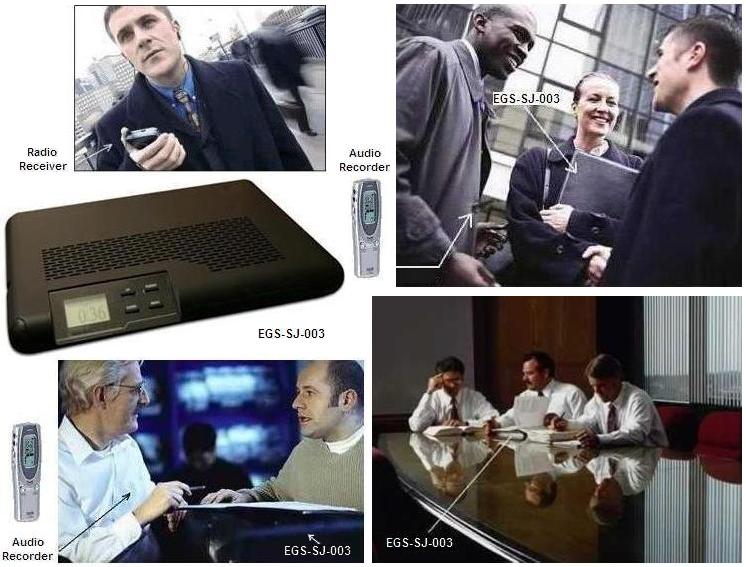 Technical Specifications:

Distance of Suppression for Digital Recorder, max 0, 5-2 meters
Distance of Suppression for Cassete Recorder, max 3-8 meters
Horizontal Suppression Beamwidth: 110°
Vertical Suppression Beamwidth: 80°
Remote Control Range: Up to 7 meters
Real Time Digital Clock
NiMh x 12 (14,4 Volt) Recharging Battery (Operating time: 2,5 hrs)
Power Supply: AC 110 – 220 V / DC 24V 3A
Intelligent Fast Battery Charger
Output Power: 3W
Long Operation Time-up to 2.5 hours
Size: 285 x 206 x 29 mm
Weight: 1,8 Kg
Availability: Immediate